2014 World Series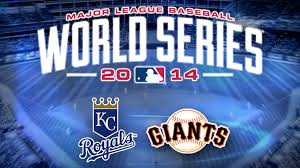 When you think baseball is settling down it heats up and becomes interesting! This postseason has been one to remember and the drama continues into the 2014 World Series. The match-up is the Kansas City Royals vs. the San-Francisco Giants. The Royals never won a World Series ring in thirty years on the other hand, the giants won got a ring 2 of the last 4 years!
They may seem like polar opposites, but they are similar in some ways too. For example, both teams have bullpens that don't disappoint. Both teams came from the wild card which is a is a long way. Finally both teams have great aces. Madison Bumbgarner and James Shields are the ones to keep an eye on. The Royals battled through some great AL teams and are entering the World Series undefeated but the Giants are going to end that streak. The Royals have stole the Postseason with their speed while the Giants have the power to win it all.
They'll make history right here and now, but only one team can take the crown. The World Series is going to be a battle to the finish. Who do you want to take the crown?