Fall Out Boy causes "Mania" with New Album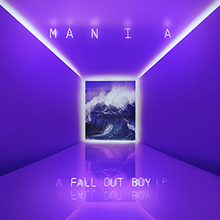 Hang on for a minute...we're trying to find some more stories you might like.
Fall Out Boy's seventh studio album, "Mania" was released on January 19, 2018. The album features singles "Young & Menace," "The Last Of The Real Ones" and eight more. The album was supposed to drop on September 15, 2017, but was delayed because the members of Fall Out Boy didn't think it was ready. Lead singer of Fall Out Boy, Patrick Stump, said "It felt very rushed. I'm never going to put a record out I genuinely don't believe is as strong or valid as the one that came before it, and in order to do that we need a little bit more time to properly and carefully record solid performances."
This album has sparked controversy between the fans. Some Fall Out Boy fans have been with them since the start and think that the album has gone too far off from Fall Out Boy's original sound. Meanwhile other "new" fans believe that the new electronic sound is an improvement from the sound of their past six albums. Pete Wentz, bass player of Fall Out Boy said "It's our job to evolve as artists."
Regardless of fan opinions, "Mania" made it to number one on Billboard's top 200, and so far sold 130,000 copies. There have already been six music videos for songs including "Church" and "Champion." If you'd like to see them live, Fall Out Boy will be going on tour for "Mania" starting February 28 and running until October 10.
Link to Fall Out Boy's website:
https://falloutboy.com/