Traits for a Successful Friend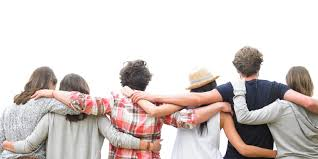 Hang on for a minute...we're trying to find some more stories you might like.
When you are growing up, your friendships change as you grow older and learn more about them and about yourself. Friendships grow by talking and hanging out. Friendships also change. When Ms. Roth, 8th grade Digital Arts teacher at HMS, was asked about how they might change, she said, "It depends on how you developed and what your interests are."
There are a lot of important traits needed to be a good friend:
Honesty is really important in a friendship. If you don't talk with each other, then you may end up losing a really good friend. Friends are the people that you turn to people when need them. Maybe you have gone through a loss, or are struggling, but know that true friends will always be there to give you advice and be honest and truthful.
Trust is important with friends. There are things that you tell friends that you wouldn't tell anyone else. When you have a friend that you trust, that is super important. You expect a good friend to not spread information you have trusted them with.
In order to be good friends, you need to have respect for each other. Friends don't do things to each other that will be harmful or hurtful. Friends want to feel safe around each other and have mutual respect for one another.
In order to get by in the world, you need to have friends by your side that will be there for you. They are the person you can turn to when you feel like you don't have anyone else.