Jump-For-Heart Event Surprises for 6th & 7th Graders
Hang on for a minute...we're trying to find some more stories you might like.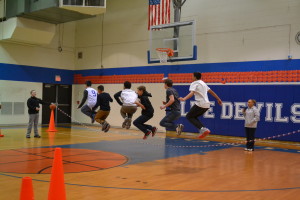 Around the beginning of February, 2015 in the HMS gym, a big group of 6th graders broke the current large group record for the jump-for-heart event. Also at that time, a 7th grader named Jada Thompson, broke the individual jump record for 7th graders. The current large group record for 6th grade  22 jumps by: Mia Bullaro, Nicolette Leo, Kristen Adirzone, Annabella Peretti, Isabella Rivera, Gianna Caporale, Kendall Stansbury, and Kayla Fucetola. The current individual jump record for 7th grade is Jada Thompson, with 461 jumps! This Jump-For-Heart event's goal and purpose is to raise money for a cause for the Nation Heart Foundation, and I bet all of the 6th and 7th graders raised a lot of money to beat the current Jump-For-Heart records!